Our Chocolate
We make our chocolate from scratch, directly from cacao beans, a process known as bean-to-bar. We source the beans from various regions around the world, then roast them in small batches, crack them, remove the shells, and stone grind them from 48 to 72 hours. Finally, the chocolate is tempered and molded into bars, truffles, and mendiants.
Not all cacao beans are the same. Depending on the bean variety, its place of origin, growing conditions, and post harvest practices, a wide range of flavours can be obtained – everything from tart and citrusy, to earthy and bourbony. We love the diversity of flavours found in high quality cacao beans and are excited to share them with you.
Bars
Below is our current lineup. Stay tuned for new origins and seasonal creations.
70% Mexico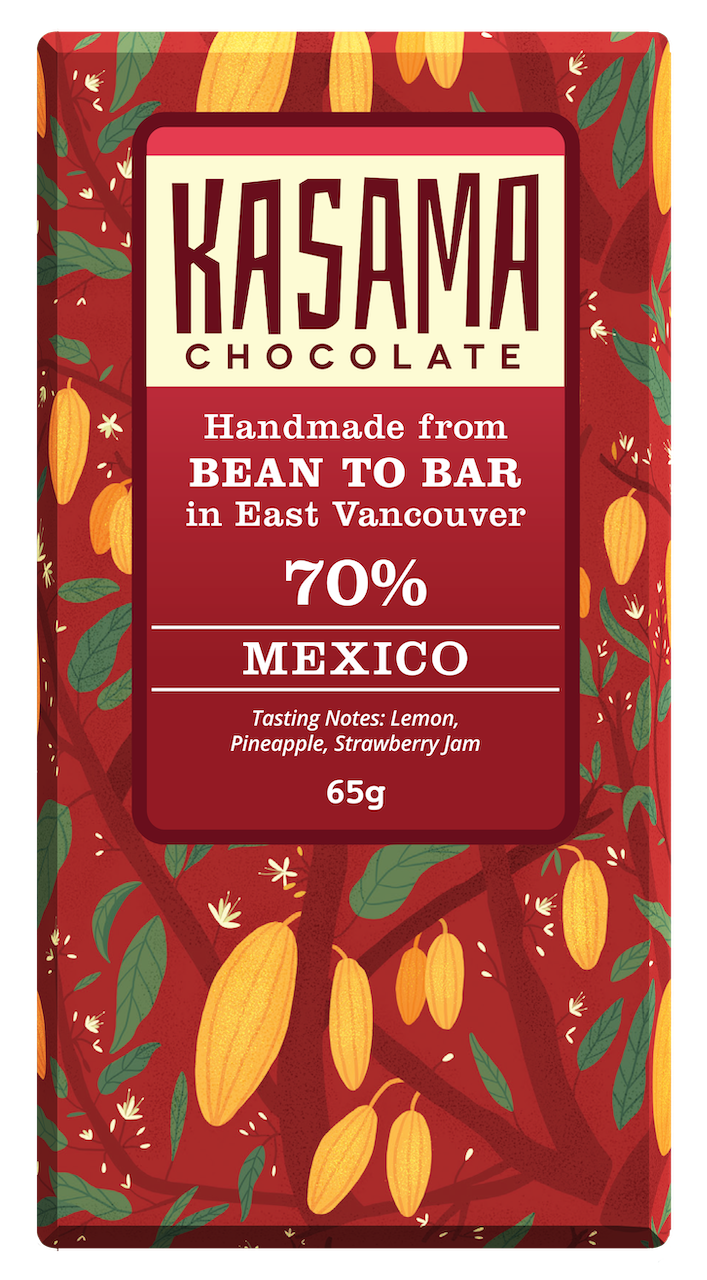 Sourced from the Hacienda Jesus Maria farm located on the "cacao route" in the northern part of the state of Tabasco, these organic Trinitario cacao beans have a wonderfully fruity aroma, with tasting notes of lemon, pineapple, and strawberry jam.
70% Honduras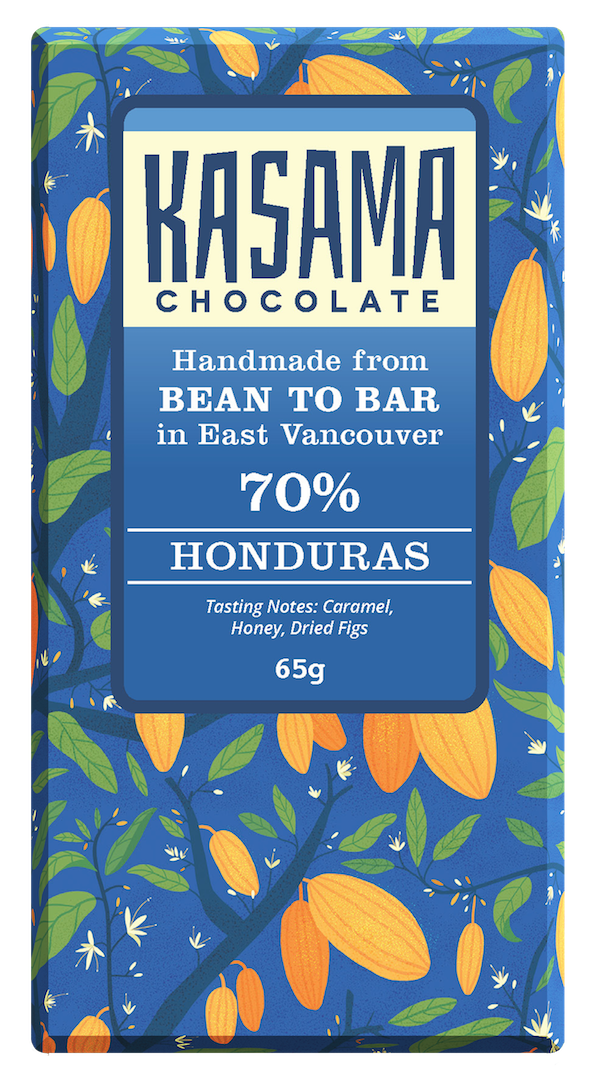 Featuring organic, fair trade cacao beans from the Beneficio Cooperative in Honduras, this bar has a rich and creamy dark chocolate flavor with notes of dried fruit, mild earthy tones and hints of scotch and caramel.
55% Goat's Milk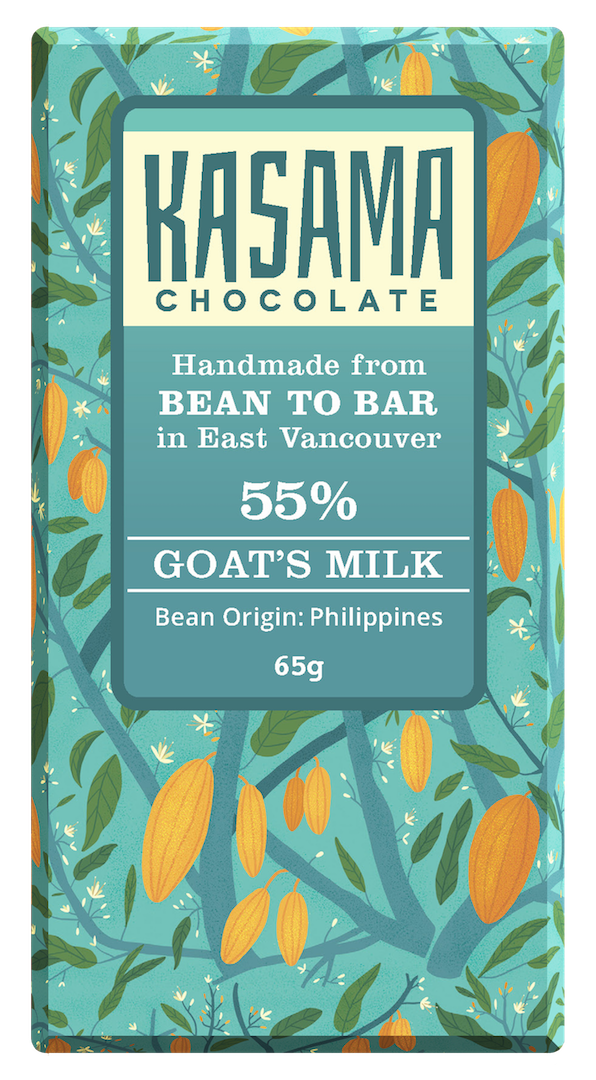 A dark milk chocolate made with cacao beans grown in the remote Cagayan Valley of the northern Philippines. The goat's milk is sourced from Happy Days Dairy in Salmon Arm and adds a unique, slightly tangy flavour.
57% Earl Grey Tea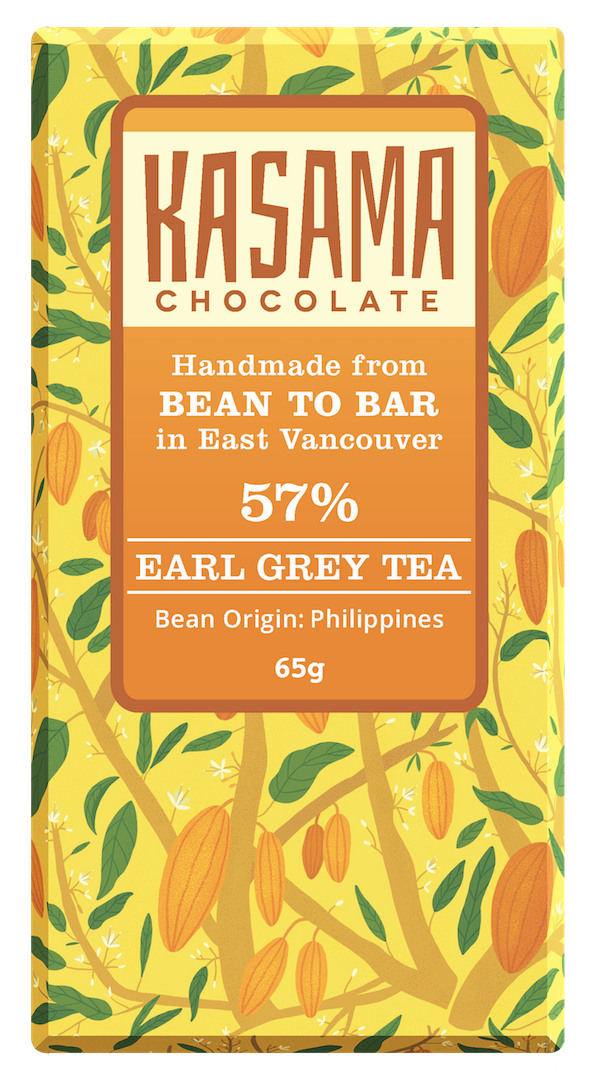 A dark milk chocolate made with cacao beans from the Philippines' remote Cagayan Valley blended with Earl Grey tea from Steam Tea House on Hastings Street - classic Earl Grey taste, floral with hints of bergamot and balanced sweetness.
57% Imara Latte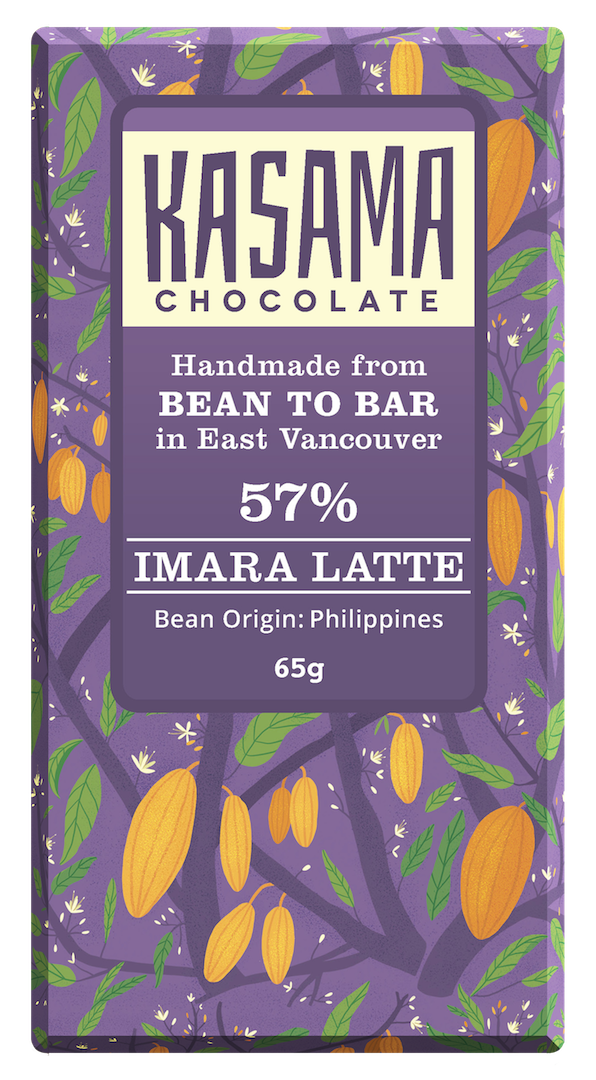 A dark milk chocolate made with cacao beans from the Philippines' remote Cagayan Valley blended with freshly ground espresso beans roasted by Moja Coffee on Commercial Drive - bold espresso flavour with a creamy finish.
Past/Seasonal Releases
66% Chamba
This limited release, tree-to-bar chocolate was made with Philippine cacao from the Cagayan Valley, fermented with guyabano (soursop) in Canadian cedar wood boxes. We harvested the cacao at the source alongside our farming friends, and travelled by raft across the Cagayan river to find fresh guyabano. This unique chocolate has a soursop aroma along with fruity notes of pineapple and cassis.
66% Incendio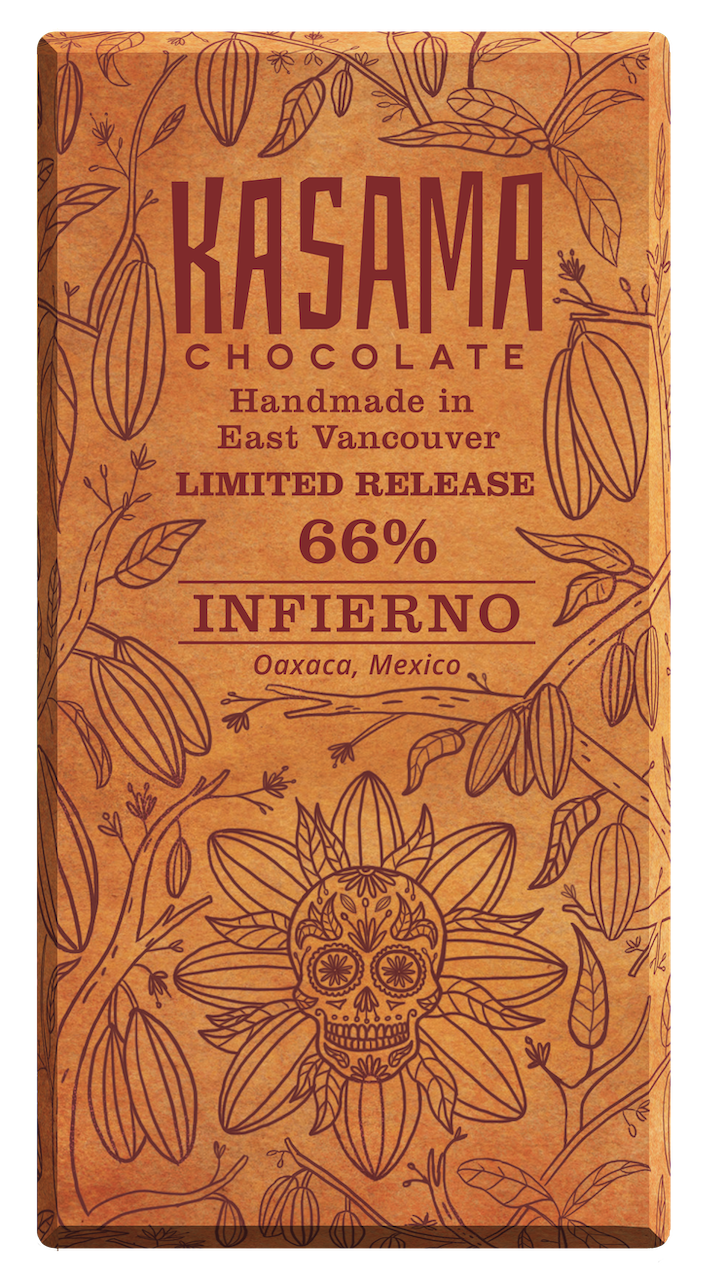 This summer, Stefan visited the Mexican city of Oaxaca, a place where cacao is deeply rooted in the culture. Inspired by the many varieties of spiced drinking chocolates, he decided to bring home some Oaxacan chillies, cinnamon bark, sapote seed, and, of course, cacao beans - just enough to fit into his suitcase and make this single limited release batch. Careful, it's got some fire!
Durian White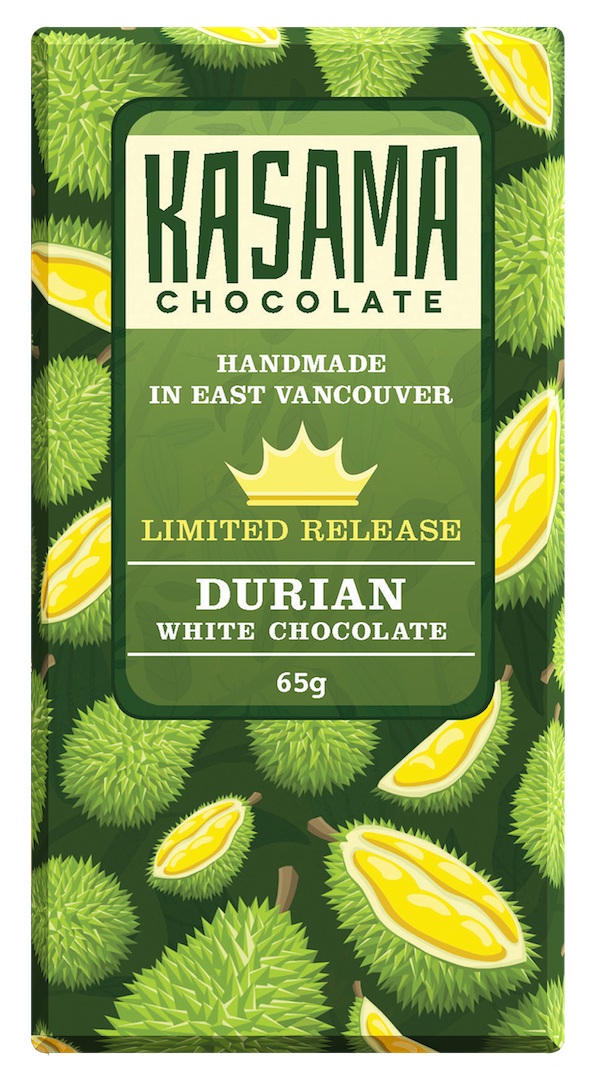 Often referred to as the 'King of Fruit', Durian has such a pungent and complex tropical aroma, that some people go crazy for it, and others run for cover at the first whiff. There's rarely room for compromise! The durian used in this bar was procured by one of our Vancouver Farmers Market friends during a recent trip to the Philippines, the place where our chocolate journey began.
Raspberry White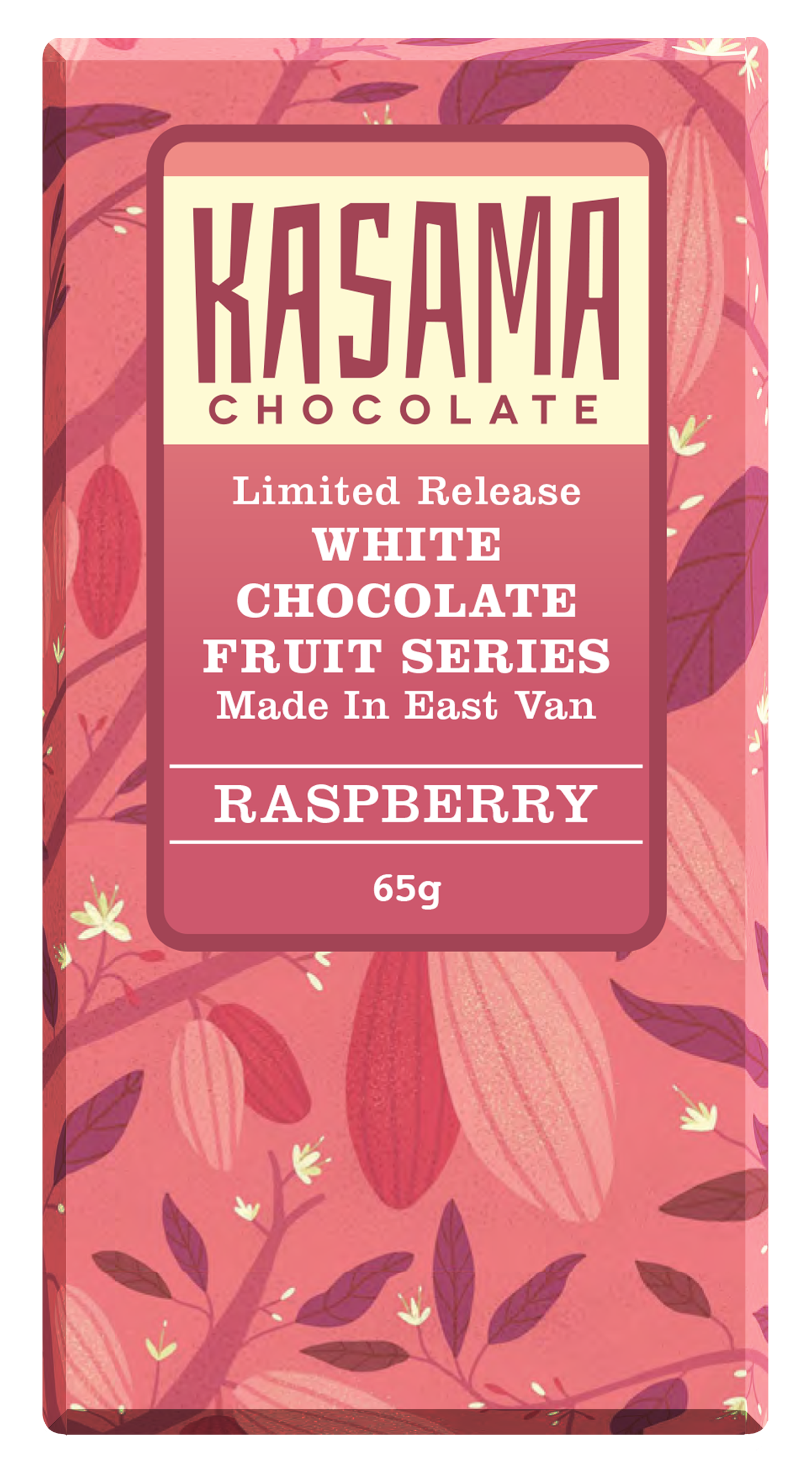 This bright pink white chocolate is made using organic, Ecuadorian cacao butter which has a creamy and subtle floral character. No added soy lecithin, or vanilla flavour, just a boatload of dried raspberries – equivalent to over 2kg of fresh raspberries for each 4kg batch of chocolate.
Truffles and Mendiants
Truffle flavours are as fickle as the four winds and change from week to week, season to season. Below are a few examples of past and rotating flavours. Come find us at the markets to see what's on deck.
Dark Honey Lavender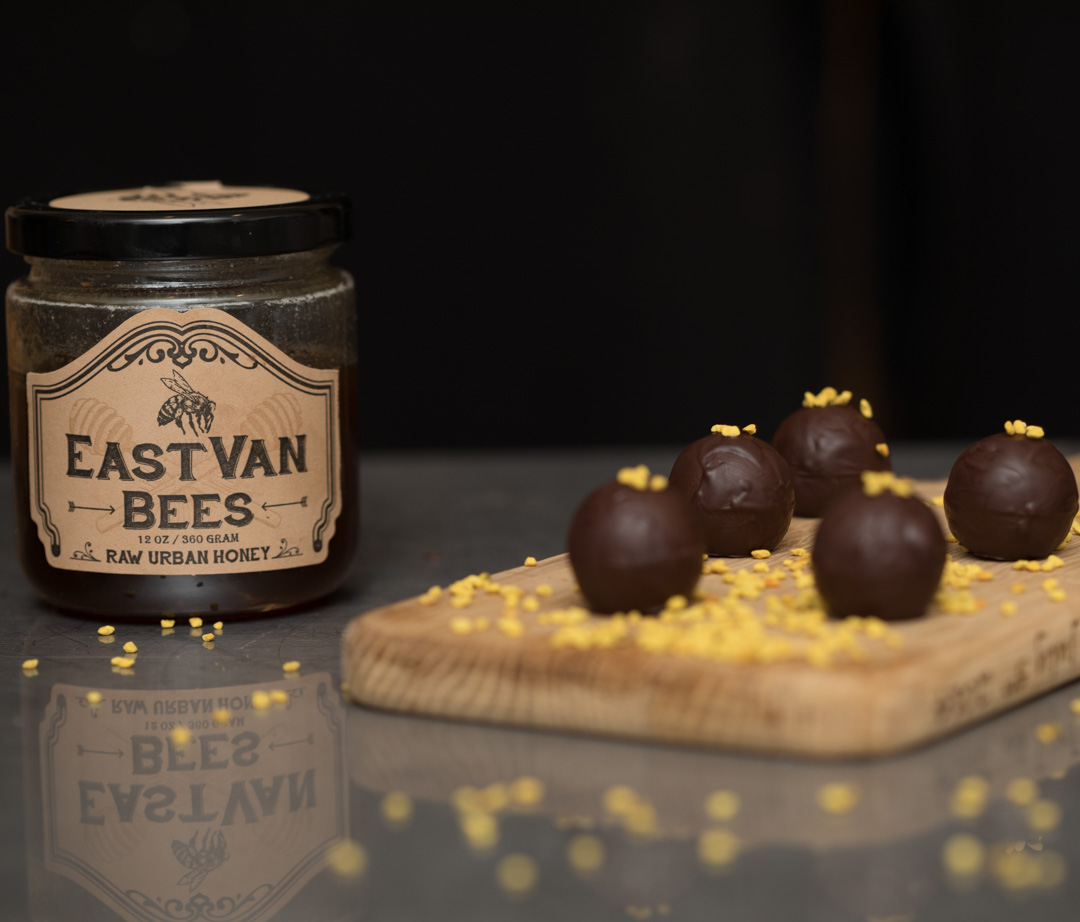 Kasama 70% dark chocolate combined with local neighbourhood honey from East Van Bees, a touch of lavender, and topped with bee pollen.
Crème de Cassis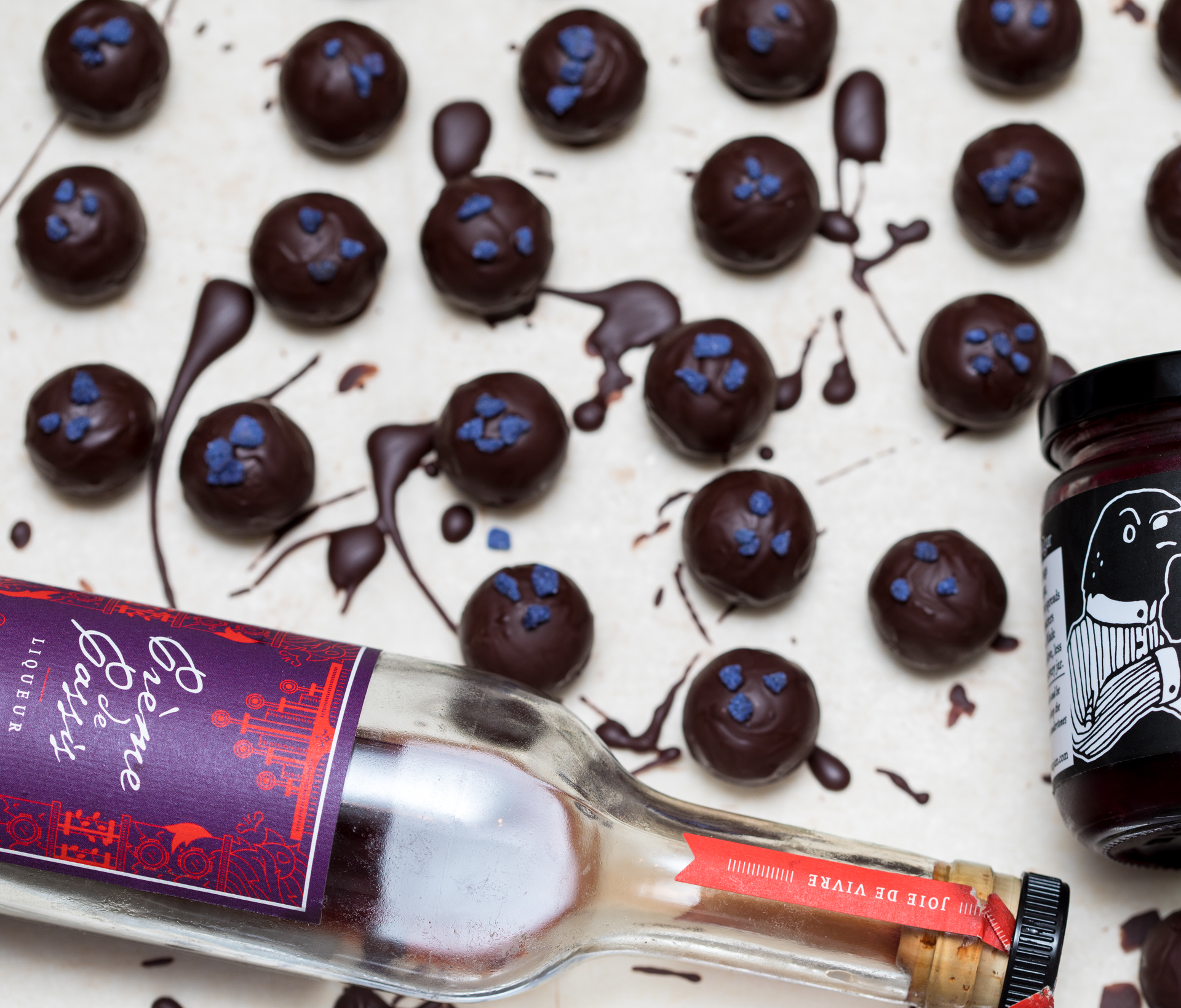 Kasama dark and milk chocolate combined with crème de cassis from Odd Society Distillery, East Van Jam's Corvid Currant jam, and garnished with crystallized violet flower petals.
Black Forest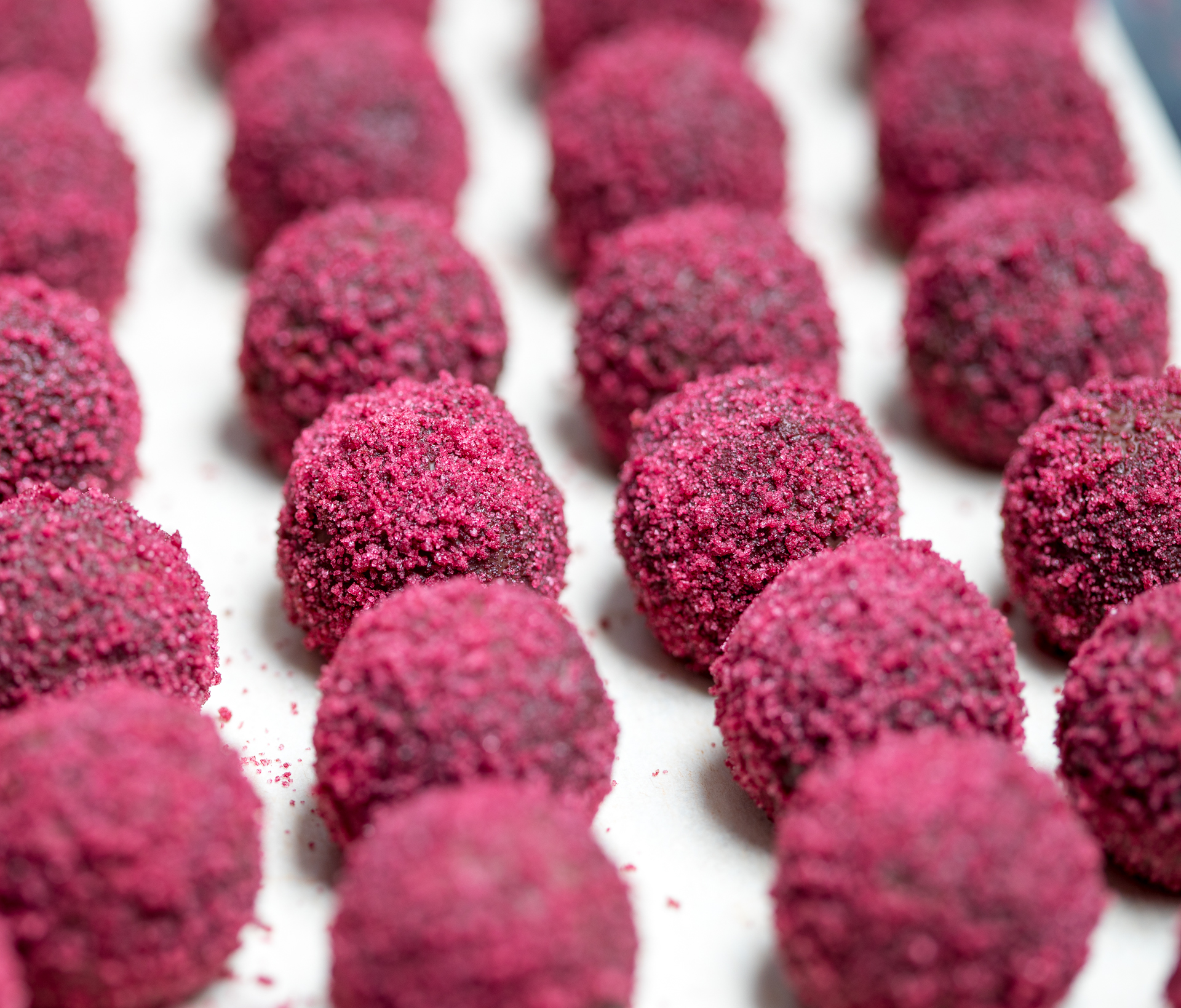 Rich house-made dark chocolate and a touch of milk chocolate combined with Forbidden Fruit Winery's oak aged Cherry Port, East Van Jam's Madame Cherry jam, slices of dried sour cherry, and topped with hibiscus infused sugar crystals.
Green Dragon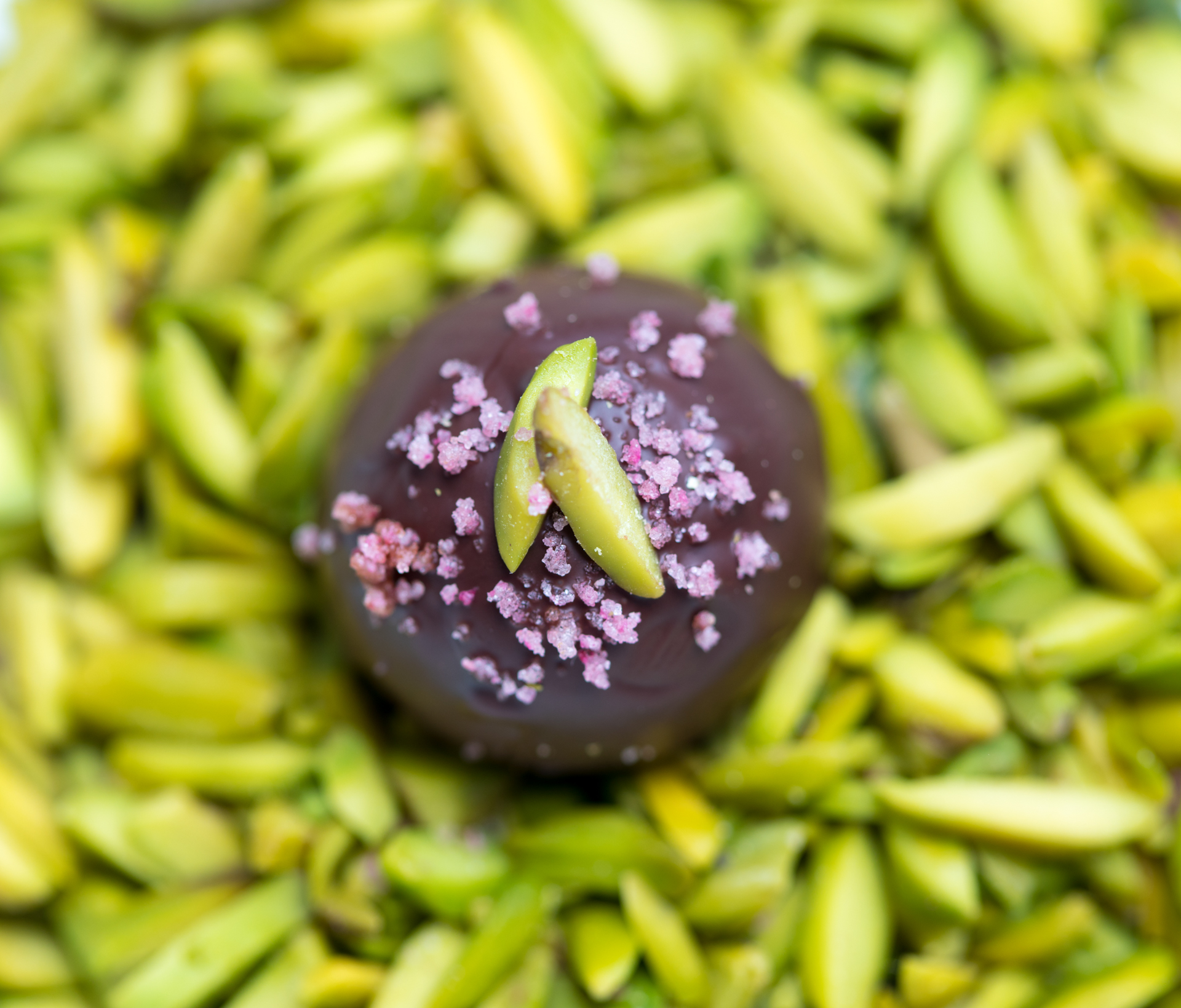 A layer of pistachio paste beneath a layer of 70% dark chocolate ganache made from our Honduras and Ecuador cacao beans, infused with cardamom and rosewater, topped with slivered pistachios and rose infused sugar crystals.
Apricot Wine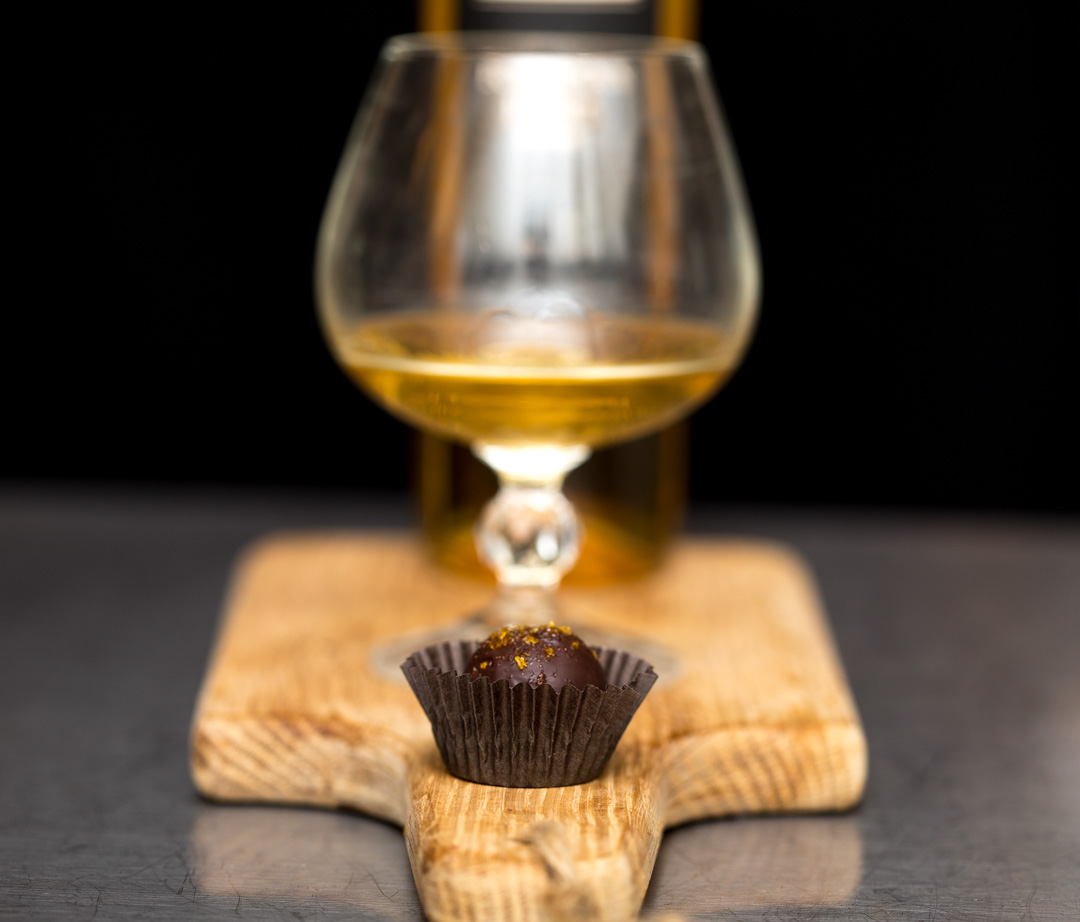 Kasama dark and milk chocolate combined with apricot wine from Forbidden Fruit Winery, apricot confiture from Batard Boulangerie, and topped with freeze dried mandarin crystals.
Royal Crunch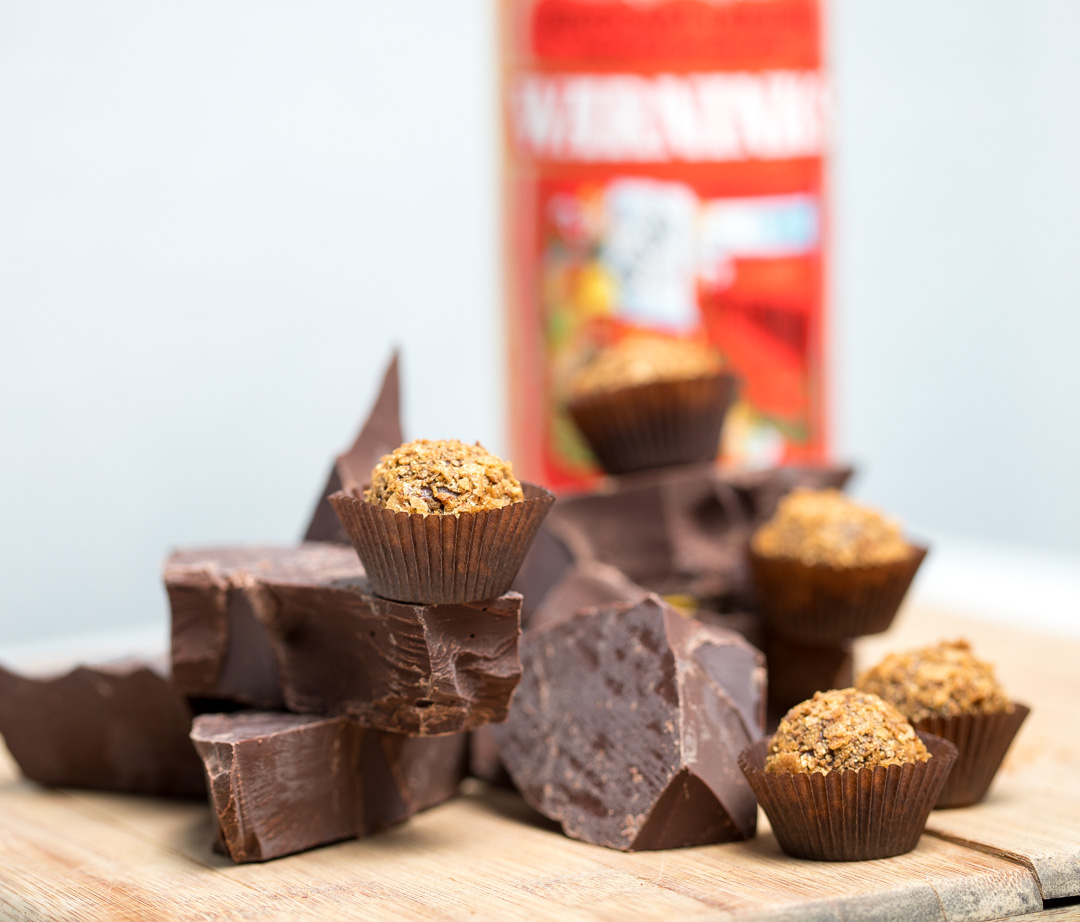 Kasama dark and milk chocolate blended with Advocaat, a traditional Dutch egg yolk liqueur, a dash of cinnamon, and rolled in crunchy feulletine flakes dusted with gold powder. *contains wheat and eggs
Mendiants
Mendiant made from our 70% Honduras dark chocolate, topped with toasted coconut, wild blueberries, and hibiscus sugar.